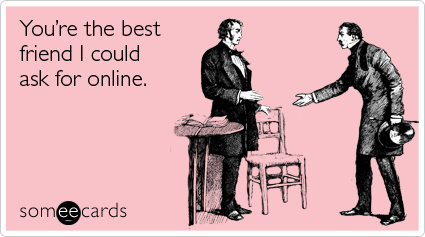 Social media is a funny thing; the ability to share and exchange information with people you don't know is simply a trip--I don't know any other way to put it. Sure, there are downsides of having a large reach, and you do need be careful about what content you are putting out there. But it can be pretty cool to interact with people from all over the country--or world--and develop relationships that without a computer, you wouldn't be able to do.
I feel like most people place emphasis on online dating when talking about an online relationship; however, I want to talk about online friendships. And not AOL friendships circa 1998, but legitimate online friendships. Ones that you feel are maybe even more substantial than "real life" friendships.
I e-met my friend Barry via
Twitter
almost three years ago. (Note: I found it ironic his first name was my last name.) I'm not even sure how I started following him on Twitter, it could have been because we have similar music tastes, or because he's really, really funny (you can follow him
@reason313
). We began to Skype not long after our Twitter friendship, and from there began to talk on the phone. I guess here it was safe to say our e-friendship had turned into a real one.
Cut to present day, where he is still is one of my friends. I'd even venture to say one of my closest friends.We still talk on the phone, send text messages, and keep each other up to date with what's going on with our lives. Well, Barry told me a few weeks back that his girlfriend is pregnant! You can imagine my excitement when I heard the news, and I'm not even going to lie, I got mad at him that he didn't tell me sooner--which can prove it's more of a "real" friendship. There were no "LOLs, or "WTFs;" it was more like "Barry, I can't believe the second that pregnancy test came out positive you didn't pick up the phone and call me!" Regardless, I was thrilled for my friend.
Today, I got an early morning text message from him saying "he had some news." I knew it was Monday, 2/25/13, which was the date of the gender reveal, so I immediately bombarded his phone and told him he had to call me versus sending a text message. Ready? He's having a
baby boy
! And I couldn't be more happy for him. Congratulations to you, and the family-to-be! I love you all. Maybe for the baby's birthday, I'll get him an iPad so we can all FaceTime. :)